New Client Intake Form and Vaccination Requirements
Please fill out our new client intake form and then mail or email it to us prior to your first visit.
Access the New Client Intake Form .pdf file by CLICKING HERE or on the graphic below.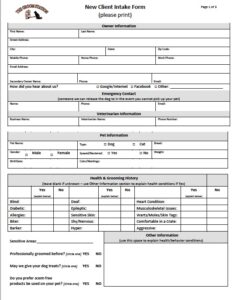 Here is a copy of the code:
21-67.7(162) Boarding kennels, commercial kennels, animal shelters, pounds and dealers.
b. All dogs and cats transported into boarding kennels and commercial kennels regulated under
Iowa Code chapter 162 shall have been vaccinated against distemper, parvo and rabies, unless exempted by Iowa Code section 351.42 or the direct written recommendation of a qualified veterinarian. Vaccine records and exemptions must be kept on file for a period of 12 months for each animal boarded, groomed, or trained.
c. Vaccine titers shall not be accepted as a form of vaccine verification. Vaccine records and written vaccine exemptions shall be kept on file. Acceptable forms of documentation for vaccine verification include the following:
(1) Written documentation of vaccination from a veterinarian;
(2) A rabies certificate signed by a veterinarian.